Description
The tracks of the Carrera DIGITAL 124 "Born to Perform" car racing set are perfect for high-speed racing! This is where the cult cars, the Chevrolet Corvette C8.R No. 3 and Porsche 911 RSR Project 1 No.57, go head-to-head. 2020 was the Corvette C8.R's first opportunity to reveal the immense power under its hood. The Porsche 911 RSR "Project 1 No.57" is the latest rocket to be launched by the Project 1 motor racing stable and turned heads at several FIA long-distance races with the roar of over 500 horsepower. These racing cars are such faithful reproductions, it's hard to distinguish then from the actual car in the latest racing series. They both demand attention - on the Carrera racecar circuits and in display cases in homes everywhere. The racing circuit set is also equipped with WIRELESS control handsets for maximum freedom of movement around the racing circuit and a double lane-change section for high-speed overtaking.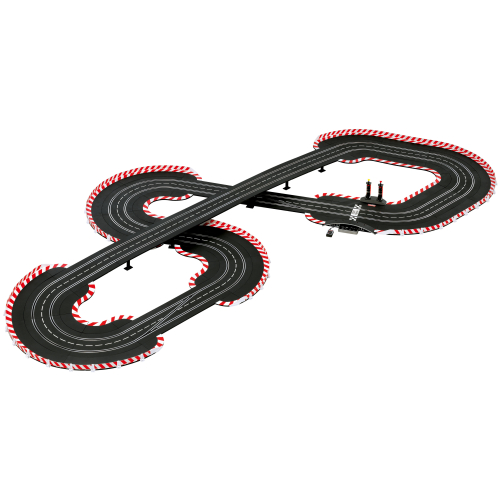 Complete set containing :
x1 Carrera DIGITAL 124 23911 Chevrolet Corvette C8.R "No.3"
x1 Carrera DIGITAL 124 23913 Porsche 911 RSR "Project 1, No.57"
x1 Carrera DIGITAL 30352 Control Unit
x1 Carrera DIGITAL 124 20758 Transformer 18V - 3 Amp
x2 Carrera DIGITAL 10111 WIRELESS+ Speed Controller
x1 Carrera DIGITAL 10113 WIRELESS+ Double charging station
x1 Carrera DIGITAL 10112 WIRELESS+ Receiver
x1 Carrera DIGITAL 30347 Double Lane Change Track
x1 Carrera DIGITAL 30345 Lane Change Track Right
x11 Carrera 20601 Standard Straight
x8 Carrera 20571 Radius 1 Curve 60°
x2 Carrera 20560 Standard Straight Borders
x1 Carrera 30359 Half Straight Border
x8 Carrera 20561 Radius 1 Curve Outer Borders 60°
x8 Carrera 20551 Radius 1 Curve Inner Borders 60°
x8 Carrera 20598 End Borders
x146 Carrera 85245 Track Connection Clips
x4 Carrera Barrier Security
x31 Carrera 85219 Guard Rail Supports
x6 Carrera Support Rail
x4 Carrera 20365 Double Sliding Contact
x1 Instruction manual
Digital car racing tracks in the online store
Experience true-to-scale driving fun in 1:24 for racing drivers from 10 years old: Up to four vehicles can line up for the race at the same time and fight for first place on this racing track system.
| | | | | |
| --- | --- | --- | --- | --- |
| Up to 4 drivers simultaneously | From age 10 | Track system in scale 1:24 | Cars in scale 1:24 | Digital |
| 2.4 GHz Wireless+ | Lane changing & overtaking possible | Cars with lights (model dependent) | Speed adjustable individually | Expandable |
The tracks 1:24 :

Unique 1:24 scale, tracks and vehicles in digital technology.
Wide track material with connectable power slide edge strips for sensational drifts and power slide action.
Corrosion-free conductors through Nirosta stainless steel.
Rigid plastic for vibration-free driving.
Stable track system, perfect track contact.
4-lane, 6-lane and 8-lane extension option.

The vehicles 1:24 :

Big size: True-to-detail vehicles on a scale of 1:24.
Individually codeable, digitally-controlled vehicles.
Vehicles can be used on Exclusive (analogue).
Vehicles with front and rear lighting.
Vehicles with reversing unit.
Detailed vehicles that are faithful to the originals, stamp printed.
Attractive vehicle licenses.
DIGITAL 124 benefits at a glance :
Lane changes and overtaking at the touch of a button with FULL SPEED.
Up to 4 vehicles on a track at the same time.
Depending on the driver's ability and skill, the speed can individually adjusted with up to 10 levels.
Simple vehicle coding using the manual control unit.
Perfect sliding and drifting.
Predominantly with front and rear lighting.
Vehicles can be used on EXCLUSIVE (analogue).
Expand DIGITAL 124 track with digital features

Are you ready more even more action on the racing track? There are no limits to racing with the Digital 124 accessories because the digital extras provide a realistic racing feeling.
When purchasing a racing track set, tracks or vehicle it doesn't usually end there – and with good reason: The sensational possibilities of the range for DIGITAL 124 are overwhelming: From the driver display which displays the fuel tank contents, the number of pit stops and the current position, to the black box or control unit – the junctions of the racetrack: The selection of Digital 124 accessories leaves no wishes desired for racing drivers. The existing track can also be equipped with wider curves to provide spectacular drifts. Double switches, hairpin turns and the pit stop lane make driving just as much fun as decorating with edge strips or flagpoles. The 2.4 GHz WIRELESS controllers should not be forgotten either for wireless control of the vehicles.
As well as the speedy accessories for the DIGITAL 124 racing track system, there are also suitable spare parts for the vehicles on the scale of 1:24 in the online store.