Carson 500707130 Digital Plug Scalextric (EasyFit) for Carrera DIGITAL 132
Reference : 500707130
Description
Decoder suitable for Scalextric Easyfit Digital Plug Ready (DPR) racing cars, for use on Carrera DIGITAL 132 tracks.
Unscrew, install and get started !
A Safetycar or Pacecar function is not integrated. The pitlane function is only possible using the Control Unit 30352 of Carrera.
Tip : If a malfunction of the Control Unit of the digital system of Carrera is recognized while using the slotcar after conversion (beep, etc.), this is probably due to an installed suppression capacitor of more than 50 nanofarads by the slotcar manufacturer at the braid contacts of the slotcar. The suppression capacitor has to be removed in this case.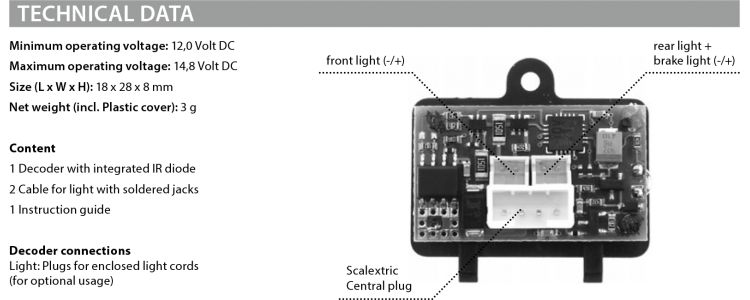 Questions
If you have any questions regarding the product, feel free to post below. Other consumers may also provide you with additional information. Log in to your member area in order to post or answer a question.
Ask a question
Asked byPascal, on 30/12/2018
Mes enfants ont eu pour noël un circuit Carrera DIGITAL 132. Certaines voitures commandées sont soit Scalectric, soit Carrera Evolution. Du coup je m'aperçois que ces voitures ne marchent pas pour ce circuit. Pouvez-vous me conseiller afin de faire en sorte que les voitures marchent ?
Answer bySlot Car-Union
Pour les voitures compatibles DPR vous pouvez utiliser la puce Carson 500707130. Si la puce ne dispose pas d'une trappe DPR, il faudra monter manuellement la puce Scalextric C7005. Pour les voitures Carrera Evolution vous devrez utiliser la puce Carrera 20026732.
Customers who bought this product

also bought