Description
Two ultra-skillful DTM drivers are guests in racing homes around the world in the Carrera Evolution "DTM Forever" set. Bruno Spengler vs René Rast! In the 2020 season René Rast won his third drivers' championship in four years in the Audi RS 5 DTM. In the 2019 DTM season Bruno Spengler rolled out onto the grid for the eighth year running in his "Black Beast" BMW. Spengler finally left the DTM series after 15 years, during which he achieved a total of 51 podium finishes and 16 victories. The matt-black BMW M4 DTM B. Spengler No.7 and the bright red and white Audi RS 5 R. Rast No.33 attract plenty of stares on this Carrera Evolution racetrack with its long straights, steep bends and extra-wide 1:24-scale tracks. These cars, fitted with front and rear lights, can't wait until drivers put the pedal to the metal with the electronic control handsets!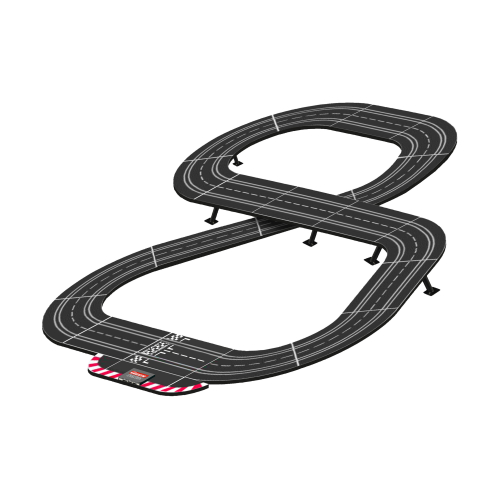 Complete set containing :
x1 Carrera Evolution 27666 BMW M4 DTM "B.Spengler, No.7"
x1 Carrera Evolution 27634 Audi RS 5 DTM "R.Rast, No.33"
x1 Carrera Evolution 20518 Electronic Connecting Section
x1 Carrera Evolution 26715 Transformer (2021) 14,8V - 29,6W
x2 Carrera GO!!! 61671 Electronic Speed Controller without Turbo
x7 Carrera 20509 Standard Straight
x10 Carrera 20571 Radius 1 Curve 60°
x2 Carrera 20598 End Borders
Carrera 85245 Track Connection Clips
Carrera Barrier Security
Carrera 85219 Guard Rail Supports
Carrera Support Rail
x4 Carrera 20365 Double Sliding Contact
x1 Instruction manual
1:32 scale vehicles on 1:24 tracks
EVOLUTION is ideal for young people, adults and hobbyists from 8 years old. Up to two vehicles can be driven at the same time on this analogue track, but the 4-lane, 6-lane and 8-lane extension option offer fast-paced driving fun for more vehicles with the connection track for the multi-lane expansion.
| | | |
| --- | --- | --- |
| Up to 2 drivers simultaneously | From age 8 | Track system in scale 1:24 |
| Cars in scale 1:32 | Analogue | Expandable |
The tracks 1:24 :

Wide track material for sensational drifts and power slide action.
Corrosion-free conductors through Nirosta stainless steel.
Rigid plastic for vibration-free driving.
Stable track system, perfect track contact.
4-lane, 6-lane and 8-lane extension option.

The vehicles 1:32 :

Vehicles predominantly digitally upgradable or retrofittable.
Detailed vehicles that are faithful to the originals, stamp printed.
Attractive, cutting-edge vehicle licenses.
EVOLUTION benefits at a glance :
Analogue racking track system – predominantly digitally retrofittable.
Worldwide unique racing track system through the combination of tracks on a scale of 1:24 and vehicles on a scale of 1:32.
Application of additional edge strips possible.
Extensive range of accessories.
Exciting racing themes and racing series.
For young people, adults and hobbyists from 8 years old.
4-lane, 6-lane and 8-lane extension option.
Analogue & digital – the Revolution in the racing tracking field

The system is predominantly digitally retrofittable. Depending on your wishes, switches can be installed in order to overtake the opponent or switch lanes in turbo speed by pressing the manual control unit. This way the track become an EVOLUTION DIGITAL 132 racing track in no time. With Carrera you enter a unique motorsport world that creates an indescribable racing track atmosphere thanks to the digital accessories. You can find all the extra in the "Digital upgrade" category to transform the analogue track into a DIGITAL 132.