Slot.it CW18 Matra-Simca MS 670B n.7 - 1st Le Mans 1974
Reference : CW18
Description
Drivers : Henri Pescarolo and Gérard Larrousse
The Matra-Simca MS 670 was a Prototype race car that won the LeMans 24 Hours 3 times in a row (from 1972 to 1974) as well as theWorld Manufacturers Championship twice (1973 and 1974).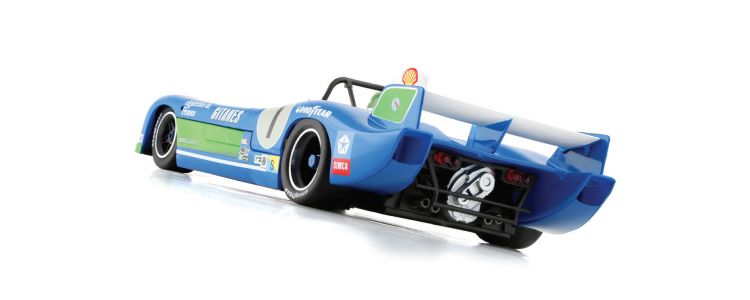 The car was designed by Bernard Boyer and Jean-Louis Caussin. The long tail version, designed specifically for Le Mans, was still called '670 B', 'B' being the distinctive letter of all Matras fitted with the Porsche 5-speeds gearbox.
The chassis was an aluminium monocoque, with fibreglass body. The engine, whose sound was extremely loud, was a 60° 3-litres V12, with aluminium block and heads, 79.7 mm bore and 50.0 mm stroke.
The motor version used in '74 at Le Mans was 'MS 73', with maximum torque of 320 Nm at 8400 RPM , and maximum power of 450 HP at 10500 rpm. On the Mulsanne straight the car could top 320 kph. Brakes had Girling ventilated discs, all-round; in 1974, the rear brakes were moved inboard. Rims dimensions were 132 x 112 at front and 152 x 152 at rear.
The car weighted 693 kg.
Three were the '670 B's racing in Le Mans in 1974. Number 7 was driven by Henri Pescarolo and Gérard Larrousse who lead the race from start to finish, winning Le Mans for the third time in a row.
Description

des pièces détachées
Carrera DIGITAL conversion
Scalextric Digital conversion
MX06 V12/3 21 500 revolutions/minute
Rear-wheel-drive (rear 2 wheels)
11:32 (Pinion 11 teeth - Crown 32 teeth)
Questions
If you have any questions regarding the product, feel free to post below. Other consumers may also provide you with additional information. Log in to your member area in order to post or answer a question.
Customers who bought this product

also bought