Description
Drivers : E. Pirro, J. Cocker and P. Drayson
Lola B09/60 is a sportscar created to compete in the Lmp1 category at the Le Mans 24 Hours. Lola has built cars for Le Mans since 1999; even the factory MG and Aston Martin cars were designed by the English constructor. In 2008, Lola was the first to offer a Coupe design available to privateer teams.
Chassis monocoque and crash box are made of carbon fiber composite. The suspension scheme is push-rod on both the front and the rear axle, with springs operated via rockers. Gearbox Xtrack 6 speeds, operated via paddle shift. Brakes have 4 pistons AP Racing calipers and carbon vented rotors. Wheels diameter is 18 inches. Overall weight 900 kg, the minimum according to regulations.
A Lola B09/60 was engaged with number 11 by Drayson Racing at the Le Mans 24 Hours 2010; it was driven by Emanuele Pirro, Jonny Cocker and Paul Drayson.
Engine was the Judd GV 5.5, a V10, 72° unit, with 4 valves per cylinder and double overhead camshaft. Displacement was 5.5 liters and weight 135 kilograms; the maximum power, with the two air restrictors required by the rules, is 650 hp at 7000 rpm.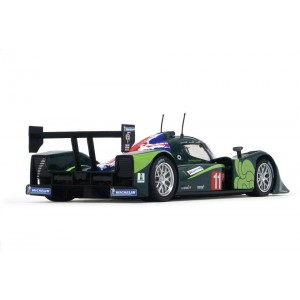 Description

des pièces détachées
Carrera DIGITAL conversion
Scalextric Digital conversion
MN09ch Flat-6 20 500 revolutions/minute
Rear-wheel-drive (rear 2 wheels)
11:28 (Pinion 11 teeth - Crown 28 teeth)
Questions
If you have any questions regarding the product, feel free to post below. Other consumers may also provide you with additional information. Log in to your member area in order to post or answer a question.