Description
Contains :
x16 Guard Rail Supports
x2 Guard rail connecting piece
x4 End piece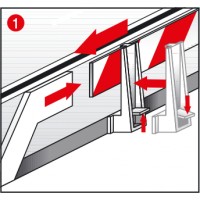 1. Guard rails: Guard rail mounts are fitted by tilting them upwards onto the verge of the track.
Questions
If you have any questions regarding the product, feel free to post below. Other consumers may also provide you with additional information. Log in to your member area in order to post or answer a question.
Customers who bought this product

also bought