Description
Ninco presents its new Quadrone Max Cam with an VGA camera and a stability and incredible maneuverability. Drone Four-channel with gyroscope. 2.4GHz radio to mitigate the interference and increase the distance flight. Includes all the features to ensure perfect control.
One of the few giant drones possessing a real camera. The power of its engines associated with an electronic on top of modernity allows aerobatics such as flips, curls of 360º... in your living room in your room or outside.
The starts and stops of the camera are from a specific button on the transmitter and the recording is on a 2GB MicroSD card (included). The camera can also take pictures with another button on the remote control. Playback of recorded data is done on the computer using a USB adapter that is included with the drone. You can mount a GoPro type camera on chassis.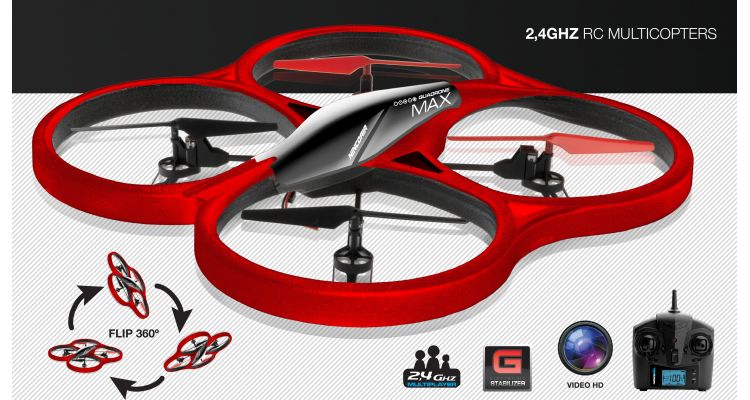 Drone with 2,4 Ghz radio and 

LCD

screen

Long flying time : 5-7min
Control range : < 100m

Designed to be used

inside

and outside

Multidirectional et 4 channels, maximal stability (6-axis giro)
AC charger, 2

GB

MicroSD

card and USB adapter 

included

Mode of flying Standard or Expert
4 Motors

With blades as spare parts included

With lights

You can mount a GoPro type HD camera on chassis
Battery Requirements : x6 AA/LR6 (not supplied).
7,4 Volts --- 850 Milliampere
Questions
If you have any questions regarding the product, feel free to post below. Other consumers may also provide you with additional information. Log in to your member area in order to post or answer a question.