描述
Every Carrera driver is looking forward to superlative racing battles and an extra shot of adrenaline with the 'Ferrari Trophy' set. The Italian carmakers have again honoured the reputation of the company with two 550 hp cars, one in the classic Ferrari red and the other in black. The Ferrari 488 GT3 Scuderia Corsa and the Ferrari 488 GT3 of the Black Bull Racing Team are powered by biturbo-charged V8 engines and demand complete concentration from their drivers. These are mega-power racing machines. Out on the 6.3-metre/20.66ft. Carrera racing circuit drivers soon realise how much practice goes into a drift. After all, it takes courage and finely-tuned skills to control these powerful and aerodynamic beasts on such a bendy racetrack.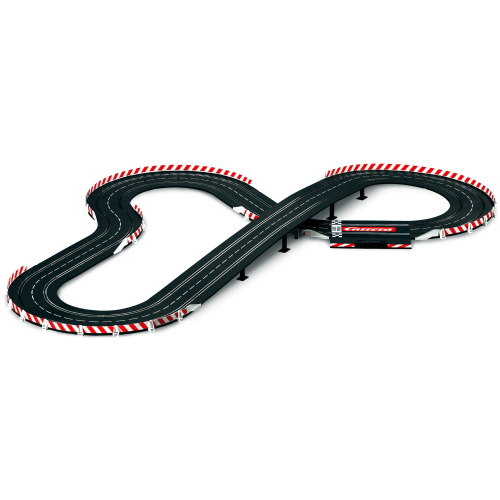 Complete set containing :
x1 Carrera Evolution 27558 Ferrari 488 GT3 "AF Corse, No.68"
x1 Carrera Evolution 27564 Ferrari 488 GT3 "Black Bull Racing, No.46" (Set only)
x1 Carrera Evolution 20515 Connecting Section
x1 Carrera Evolution 26710 Transformer 14,8V - 2 x 1 Amp
x2 Carrera Evolution 20709 Speed Controller
x6 Carrera 20509 Standard Straight
x2 Carrera 20612 1/4 Straight
x12 Carrera 20571 Radius 1 Curve 60°
x2 Carrera 20598 End Borders
Carrera 85245 Track Connection Clips
Carrera Barrier Security
Carrera 85219 Guard Rail Supports
Carrera Support Rail
x4 Carrera 20365 Double Sliding Contact
x1 Instruction manual
1:32 scale vehicles on 1:24 tracks
EVOLUTION is ideal for young people, adults and hobbyists from 8 years old. Up to two vehicles can be driven at the same time on this analogue track, but the 4-lane, 6-lane and 8-lane extension option offer fast-paced driving fun for more vehicles with the connection track for the multi-lane expansion.
| | | |
| --- | --- | --- |
| Up to 2 drivers simultaneously | From age 8 | Track system in scale 1:24 |
| Cars in scale 1:32 | Analogue | Expandable |
The tracks 1:24 :

Wide track material for sensational drifts and power slide action.
Corrosion-free conductors through Nirosta stainless steel.
Rigid plastic for vibration-free driving.
Stable track system, perfect track contact.
4-lane, 6-lane and 8-lane extension option.

The vehicles 1:32 :

Vehicles predominantly digitally upgradable or retrofittable.
Detailed vehicles that are faithful to the originals, stamp printed.
Attractive, cutting-edge vehicle licenses.
Coveted collectors' vehicles: LIMITED EDITIONS in an edition of 1,999 pieces worldwide.
EVOLUTION benefits at a glance :
Analogue racking track system – predominantly digitally retrofittable.
Worldwide unique racing track system through the combination of tracks on a scale of 1:24 and vehicles on a scale of 1:32.
Application of additional edge strips possible.
Extensive range of accessories.
Exciting racing themes and racing series.
For young people, adults and hobbyists from 8 years old.
4-lane, 6-lane and 8-lane extension option.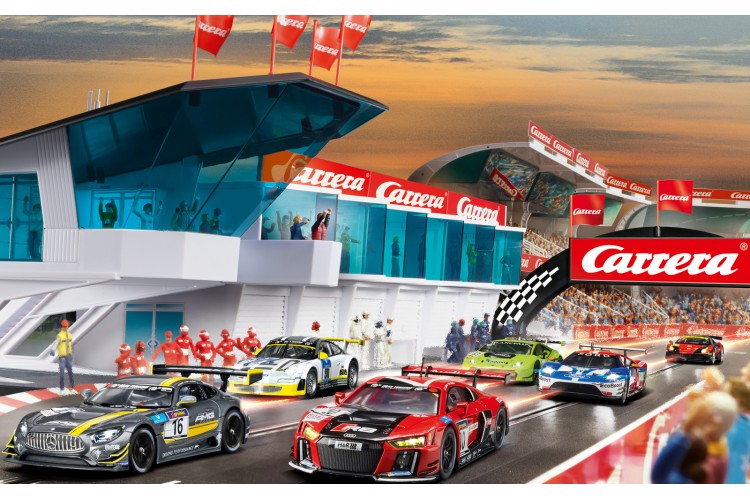 Analogue & digital – the Revolution in the racing tracking field

The system is predominantly digitally retrofittable. Depending on your wishes, switches can be installed in order to overtake the opponent or switch lanes in turbo speed by pressing the manual control unit. This way the track become an EVOLUTION DIGITAL 132 racing track in no time. With Carrera you enter a unique motorsport world that creates an indescribable racing track atmosphere thanks to the digital accessories. You can find all the extra in the "Digital upgrade" category to transform the analogue track into a DIGITAL 132.