The NSR Clio is the most competitive 1/32nd scale model. With the Clio, NSR wanted to build an highly performing model, a technological concentration of parts to be competitive straight out of the box.
Renault Clio and Abarth S2000 have same identical chassis and mechanical parts! This means that these two cars have very close performance on the track. You can challenge with Renault Clio and then you can simply unscrew Clio body and screw Abarth S2000!

Thanks to Anglewinder, Inline and Sidewinder configurations, the Abarth S2000 is suited for any competition around the World.
The motor is King 21k EVO/3, has 21400 rpm @ 12Volts - 350 gr/cm.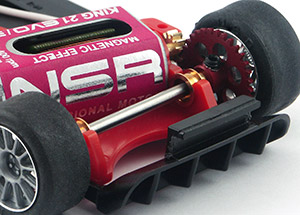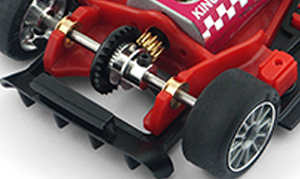 The special aluminium rims with AIR SYSTEM technology, along with soft compound tyres, give an exceptional grip on any kind of track surface.
The Clio NSR was created in the streamline of the Mosler GT project which has dominated in the GT top class either in National and International competitions since it was born in 2006.
In according with our NSR philosophy, we have worked to obtain the best performances without any compromise.
Racing
NSR organises endurance races in any Country where NSR exports cooperating with National Distributors and involving either professional drivers then any enthusiastic fan.
All NSR cars are produced and tested exclusively into NSR Factory and only.