Descripción
These adapters allow removal of the bulky Carrera guide system and the fitting of a standard guide flag, they are designed to suit Slot-it guides with a screw fitting.
They are available in front and rear screw versions. Below is a list of known fitments. They are supplied in pairs either x2 Front, x2 Rear or Mixed (x1 Front & x1 Rear).
They are supplied with x8 spacer washers to allow fine tuning of the guide height depending on guide flag and brushes used, this is also down to user preference.
These adapters were designed to be fitted without any modification to the chassis, no gluing or cutting needed, simply re uses the original screws. It does not damage the original set up*.
Known fittings but will suit many others: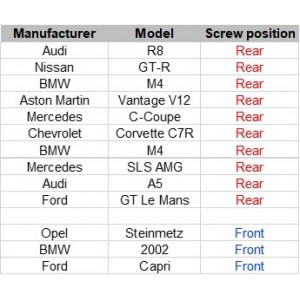 *Original wires will need to be cut, these would need to be re attached if ever the original guide was re-fitted.