Descripción
PRE-ORDER: The model will be available fat the end of May 2019. Remember to book your copy in advance because the quantities are very limited
Numbered and limited edition to 400 units.
Handmade high quality slot car ready to run with professional finish and "CARTRIX" motorization.
Coachwork, chassis and pilot's panel fabricated in high quality resin of polyurethane with great resistance to impacts. The models are completed with parts made in photoengraving, nickelated white metal, crystal, plate glasses in PVC. Tyres and spokes are self-made. Besides, the drivers are based on the model's era, which gives a particular and artistic touch to the differents models.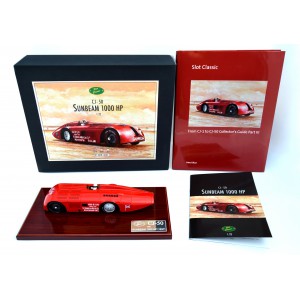 Contents
The CJ-50 Special Box-Set will be limited to only 400 units. It will include the following features :


CJ-50 Sunbeam 1000 HP "Daytona Beach 1927". First car ever to attain 200 m.p.h.
The Third Part of the "Slot Classic's Collectors Guide", covering all the models between CJ-35 and CJ-50, including updates on the previous releases. Once again written by the Slot Classic german expert Uwe Kitza in a deluxe edition with hard cover and high quality pictures. This new book covers both the official versions as well as the special variations of our whole catalogue.
A wooden deluxe plinth with a conmemorative photo-etched plaque in order to place the Sunbeam 1000 HP.
A colour brochure, written by spanish land-speed record expert, Luis Gutiérrez Espada, full of information and pictures.
A large art-print sticker on the cover, featuring the drawing by Slot Classic's artist, Diego Serrano.