Description
The Carrera DIGITAL 132 Model by Slot Car-Union
With this pack assembled by Slot Car-Union you can race with 6 cars (not included) at the same time creating the entirety the original circuit into your home. This circuit was specially designed for companies wishing to organize a dedicated event with a slot car circuit. We provide you a complete Carrera DIGITAL 132 circuit with all the tracks, borders, lane changes, startlight, position tower, race management system, 6 wireless controllers, 1 D132 transformer and various accessories that will allow you to play with 6 players in Carrera DIGITAL 132.
The set comes with :
The

Control Unit 30352

which is the main unit of your circuit.
3

WIRELESS+ Set Duo 10109

to allow you to have 6 wireless controllers on their dedicated charging cradle. Do not forget to fully recharge the batteries before first use. A full charge allows you to enjoy a game time of about 8 hours. For larger events we advise you to take an extra individual

WIRELESS+ Speed Controller

to guard against possible controller failure on the day of the event.
The essential

AppConnect 30369

that will allow you to have on a smartdevice a display of the race in color with sound and visual effects. Here you can set the name and the image of the drivers participating in the race. The smartdevice can be placed in the center of the circuit in a place clearly visible to all drivers.
The

Startlight 30354

which will give you an LED start sequence is an additional race decoration.
The

Position Tower 30357

, which gives you a realistic circuit effect and will give you the number of cars and their position during the race. The Position Tower can be placed anywhere on the circuit, for example at a location where participants will not be able to see the Smartdevice main display.
A Slot Car Pickup Clamp Grabber Reacher useful for picking up cars in the center of the track.
In order to help you to reproduce the layout, help you with the plan included

in downloads

that you can then print.

Save time

in the development of your project, size and characteristics of the circuit are all indicated.
This complete circuit allows you to

enjoy a discount

compared to the price you would pay if you had to buy the items individually.
There may be additional elements remaining available after you have finished assembling your circuit ;

keep them

if you want to extend your track in the future.

The DIGITAL 132 cars are not provided to enable you to make your own choice, so if you need vehicles don't forget to add them into your order. For this circuit you will need 6 cars. For big events we advise you to take one or two additional spare cars to protect you from a possible breakage of a vehicle on the day of the race.
Digital slot car tracks for the whole family
Experience digital technology with a vehicle scale of 1:32 with Carrera: Up to six vehicles can drive on the racing track at the same time and overtake the opponents by changing lanes using the DIGITAL 132 racing track system. Thanks to the digital features, you can experience the real racing feel on particularly wide racing tracks on a scale of 1:24.
| | | | | |
| --- | --- | --- | --- | --- |
| Up to 6 drivers simultaneously | From age 10 | Track system in scale 1:24 | Cars in scale 1:32 | Digital |
| 2.4 GHz Wireless+ | Lane changing & overtaking possible | Cars with lights (model dependent) | Speed adjustable individually | Expandable |
The tracks 1:24 :
The wide track material from Carrera allows for optimum cornering with sensational drifts and power slide action.
Slot racing and overtaking in perfection: worldwide unique racing track system through the combination of tracks on a scale of 1:24 and digitally-controlled vehicles on a scale of 1:32.
Corrosion-free conductors through Nirosta stainless steel.
Rigid plastic for vibration-free driving.
Stable tracks with virtually gap-free transitions.
Springs track connection pieces for perfect track contact.
DIGITAL 132 benefits at a glance :
Depending on the driver's ability and skill, the speed can individually adjusted with up to 10 levels.
Simple vehicle coding using the manual control unit.
Pace car and autonomous car function.
Adjustment option for the maximum speed and braking behaviour of the vehicles.
Pit stop lane as an accessory, maximum fuel tank capacity of the vehicles can be varied.
Can be continually extended with Carrera track material 1:24.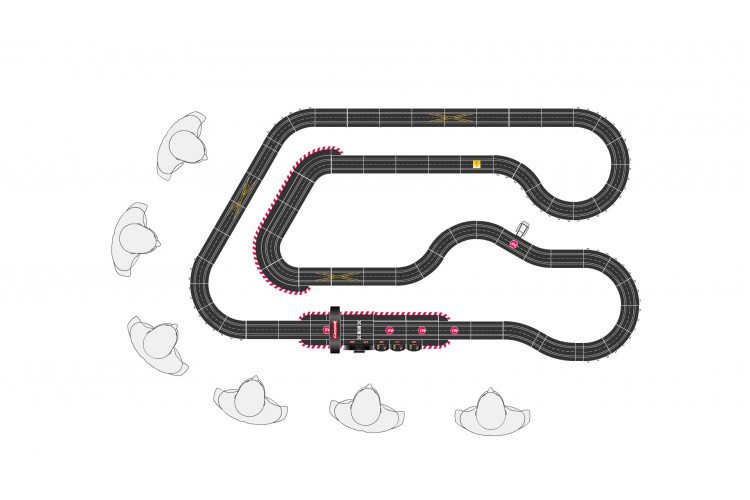 DIGITAL 132 accessories

The accessories from DIGITAL 132: From extension sets to additional power supplies. Digital features are also available in the official Carrera online store – a real racing feeling guaranteed!
A lap counter that displays the current race position, time difference and the best time on an LCD display, a steep curve that provides extra adventures while driving or the check lane that measures the acceleration and intermediate time from Porsche, BMW or Audi: The extras for the digital car racing tracks simulate real races and create more fun in the competitions.
There is enough freedom on the racing tracks thanks to the wireless 2.4 GHz WIRELESS+ manual control units: A total of six vehicles can be digitally-controlled on the Carrera track from a distance of up to 15 metres. The additional power supplies also make it possible to extend any DIGITAL 132 track to over 10 meters. The track is operated with a 14.8-volt transformer that is also offered separately as an accessory.