Each pack contains all three of these grade options :

We've nicknamed them "The Rough, The Tough, and The Smoothie" which come in 60, 120 and 240-grit grades respectively (they're graded like sandpaper, the lower the number, the more aggressive the cut).
HS0281 : Double-Decker PRO-3 Triple Pack


Pack contains :
1x 60-grit for cutting into old, hardened carbon deposits.

1x 120-grit for recent carbon deposits, including heavy ones.

1x 240-grit for bringing the rails back to a nice polished finish and also for keeping them that way in future!

Whilst this listing covers the Triple Pack, (comprising all three grades), we are also producing a full range of packs, including individual, Single Packs in each grade, two Dual Packs, in both "Standard" and "Heavy-Duty" versions.
Don't forget to fit new pure copper braids and enjoy cleaner, interference-free running with less arcing!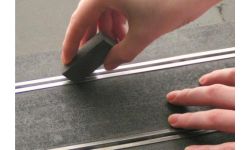 Here, we using a fine grade rubber to smooth the finish on one side of a track we're using for comparison purposes.
You can see from the picture that the rail on the left is a dull grey in colour, indicating a heavy coverage of carbon, which had been left on it whilst in storage for a considerable length of time. The finished side on the right speaks for itself and awaits a final polish (I use a tube of Solvol Autosol for that).