Description
The new super sports car from Maranello made its debut on 5 March 2013 at the Geneva Motor Show. With a whopping 963 hp, this hybrid car is Ferrari's most powerful two-seater and a real highlight on the racetrack. The LaFerrari has a hybrid drive with the sounding name HY-KERS - this system is derived from the KERS from Formula 1. A super sports car that also convinces visually. The Carrera DIGITAL 132 LaFerrari slot car impresses with xenon front lights, a 100% realistic rear/brake light function and a faithful workmanship. The Carrera car is individually codeable, digitally controllable and offers real driving pleasure.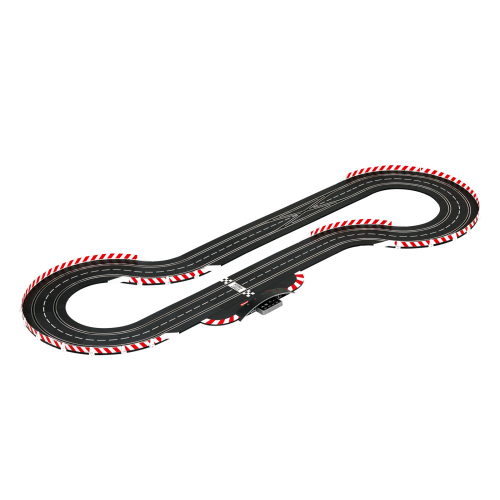 Complete set containing :
x1 Carrera DIGITAL 132 30665 LaFerrari (red)
x1 Carrera DIGITAL 132 30681 LaFerrari (yellow)
x1 Carrera DIGITAL 30352 Control Unit
x1 Carrera DIGITAL 132 30326 Transformer 14,8V - 3,5 Amp
x2 Carrera DIGITAL 30340 Speed Controller
x1 Carrera DIGITAL 30347 Double Lane Change Track
x2 Carrera 20611 1/3 Straight
x3 Carrera 20509 Standard Straight
x10 Carrera 20571 Radius 1 Curve 60°
x2 Carrera 20598 End Borders
Carrera 85245 Track Connection Clips
Carrera Barrier Security
Carrera 85219 Guard Rail Supports
Carrera Support Rail
x4 Carrera 20365 Double Sliding Contact
x1 Instruction manual
Digital slot car tracks for the whole family
Experience digital technology with a vehicle scale of 1:32 with Carrera: Up to six vehicles can drive on the racing track at the same time and overtake the opponents by changing lanes using the DIGITAL 132 racing track system. Thanks to the digital features, you can experience the real racing feel on particularly wide racing tracks on a scale of 1:24.
| | | | | |
| --- | --- | --- | --- | --- |
| Up to 6 drivers simultaneously | From age 8 | Track system in scale 1:24 | Cars in scale 1:32 | Digital |
| Lane changing & overtaking possible | Cars with lights (model dependent) | Speed adjustable individually | Expandable |   |
The tracks 1:24 :

The wide track material from Carrera allows for optimum cornering with sensational drifts and power slide action.
Slot racing and overtaking in perfection: worldwide unique racing track system through the combination of tracks on a scale of 1:24 and digitally-controlled vehicles on a scale of 1:32.
Corrosion-free conductors through Nirosta stainless steel.
Rigid plastic for vibration-free driving.
Stable tracks with virtually gap-free transitions.
Springs track connection pieces for perfect track contact.

The vehicles 1:32 :

DIGITAL 132 vehicles are digitally-controlled and individually codeable.
All Carrera Digital 132 vehicles can be used on Carrera Evolution.
Detailed vehicles that are faithful to the originals, stamp printed.
Vehicles with realistic acceleration and braking behaviour.
Vehicles predominantly with front light and rear/brake light function.
Solid workmanship with bodywork.
DIGITAL 132 benefits at a glance :
Depending on the driver's ability and skill, the speed can individually adjusted with up to 10 levels.
Simple vehicle coding using the manual control unit.
Vehicles can be used on Evolution.
Vehicles predominantly with front light and rear/brake light function.
Pace car and autonomous car function.
Adjustment option for the maximum speed and braking behaviour of the vehicles.
Pit stop lane as an accessory, maximum fuel tank capacity of the vehicles can be varied.
Can be continually extended with Carrera track material 1:24.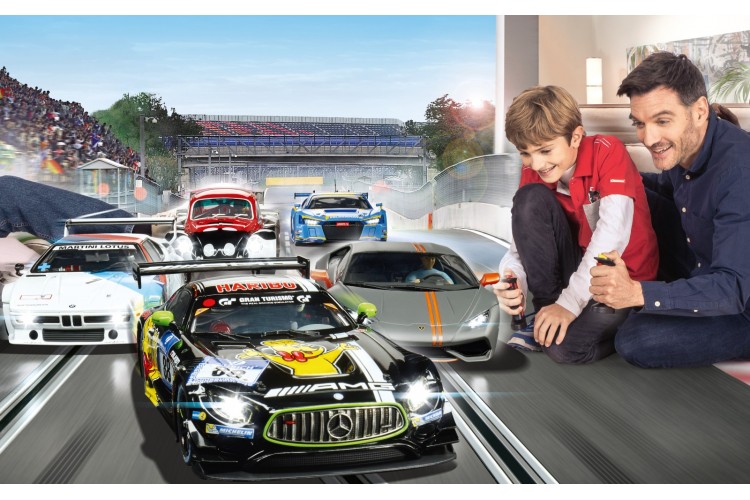 DIGITAL 132 accessories

The accessories from DIGITAL 132: From extension sets to additional power supplies. Digital features are also available in the official Carrera online store – a real racing feeling guaranteed!
A lap counter that displays the current race position, time difference and the best time on an LCD display, a steep curve that provides extra adventures while driving or the check lane that measures the acceleration and intermediate time from Porsche, BMW or Audi: The extras for the digital car racing tracks simulate real races and create more fun in the competitions.
There is enough freedom on the racing tracks thanks to the wireless 2.4 GHz WIRELESS+ manual control units: A total of six vehicles can be digitally-controlled on the Carrera track from a distance of up to 15 metres. The additional power supplies also make it possible to extend any DIGITAL 132 track to over 10 meters. The track is operated with a 14.8-volt transformer that is also offered separately as an accessory.