Description
Drivers : J. Weaver and B. AKin
The Porsche 962 is a sport-prototype racing car designed to replace the Porsche 956, in American IMSA and Group C WSC races. It was one of the most succesfull racing cars ever and it won several competitions all over the world :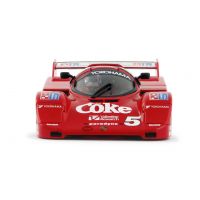 World Sport-Prototype Championship in 1985 and 1986

24h Le Mans in 1986, 1987 and 1994

IMSA GTP Championship in 1985, 1986, 1987 and 1988

24h Daytona in 1985, 1986, 1987, 1989 and 1991

12h Sebring in 1985, 1986, 1987 and 1988
The IMSA 'GTP' regulations required some modification from the Porsche 962 designed for the Group C. Front axle was moved 12 centimeters forward, to ensure driver's feet would stay behind the center line of the front wheels. The boxer 6 cylinders engine had a displacement of 3.2 liters; it was air-cooled, with only one turbo, 2 valves per cylinder, one single overhead camshaft.
Car was raced by American privateers; Bob Akin's was one of the best known teams, with red car number 5. The team owner himself, together with James Weaver, reached 4th place at the Daytona Finale 3 Hours, in October 1986.