Here's a short description of the use of these three grade options :

We've nicknamed them "The Rough, The Tough, and The Smoothie" which come in 60, 120 and 240-grit grades respectively (they're graded like sandpaper, the lower the number, the more aggressive the cut).
HS0251 : Single Pack (Fine)


Pack contains 1x 240-grit for light regular cleaning, bringing restored rails back to a nice polished finish and also for keeping them that way in future!
HS0252 : Single Pack (Medium)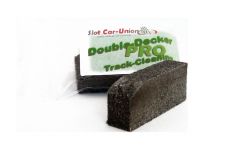 Pack contains 1x 120-grit for cutting recent carbon deposits, including heavy ones and removing any scratches left by the "Rough" one.. (this is the "workhorse" of the bunch)
HS0253 : Single Pack (Coarse)


Pack contains 1x 60-grit for cutting very old, or hard carbon, and rusted rails; use sparingly - this one is the sharpest cut but its coarse, sharp grit also makes it prone to attack its own substrate and so crumbles faster than the finer ones. Once you've broken the surface, move on to the medium to avoid scratching the rails!
This listing is for the Single Packs, covering all three grades individually, but we are also producing a full range of packs, including both Standard and Heavy-Duty mixed Dual Packs and a "Double-Decker" Triple Pack version containing all three grades.
Don't forget to fit new pure copper braids and enjoy cleaner, interference-free running with less arcing!
Here, we using a fine grade rubber to smooth the finish on one side of a track we're using for comparison purposes.
You can see from the picture that the rail on the left is a dull grey in colour, indicating a heavy coverage of carbon, which had been left on it whilst in storage for a considerable length of time. The finished side on the right speaks for itself and awaits a final polish (I use a tube of Solvol Autosol for that).