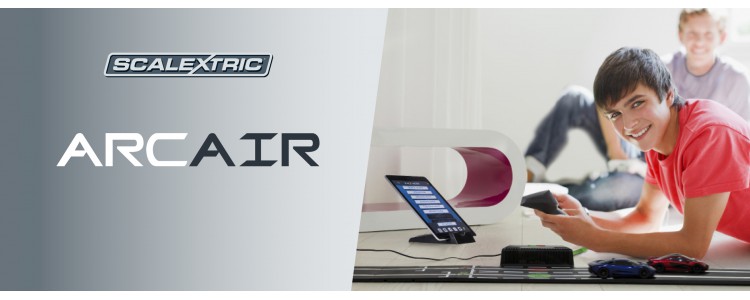 Scalextric ARC AIR (App Race Control) is a revolutionary slot car system that allows users to wirelessly create and manage races with a handheld smart device, such as a smartphone or tablet. Download the ARC app, then connect your smart device via Bluetooth to the new ARC Powerbase, unlocking unique features and control of your Scalextric races.
Make it personal!

Scalextric ARC AIR Sets allow you to customise your race for a truly personal experience

Choose your race type
Quick Race - Practice - Grand Prix - Endurance - Tournament - Drag Race- Arcade - Pace Car

Choose your race conditions
Fuel Usage - Tyre Wear - Number Of Laps - Driver Penalties - Variable Weather Conditions - Race Incidents - Qualifying - Start Type - KERS - Yellow Flag

Post your best times on social
Show your competitve edge and post your race stats onto Facebook and Twitter!!
 

Contents

ARC AIR Powerbase
x2 ARC AIR Wireless Hand Controller
Smart Device Cradle
Power supply 15V - 1.2A

 
Getting started
It's so simple to get started!! Download the ARC app, connect your powerbase to your Smart Device, select from various race scenarios and you're ready to race.
| | | | |
| --- | --- | --- | --- |
| Download the ARC app on your Smart Device | Connect via Bluetooth to the ARC Powerbase | Select from 8 race modes and choose your race conditions | Thrash your opponent in the ultimate racing experience! |
ARC AIR (App Race Control) Overview
The ultimate slot car race control system is here! App Race Control (ARC) introduces real racing excitement to Scalextric!

Feel the thrill of the race with vibrating wireless hand controllers
Requires x2 AA/LR6 Battery per controller (not supplied)


Wireless controllers plus a braking button for more control


Let weather conditions affect your race for a realistic race experience


Collect power ups for a competitive edge over your opponent in arcade mode
1. Quick Race
This mode allows you to create a number of custom events of any type which can be accessed quickly in the future.
2. Practice
This is a non competitive mode in which drivers try to achieve the best lap time over a number of set laps.
3. Grand prix
Competitive mode in which drivers race over a set number of laps.
4. Endurance
Competitive race mode in which drivers race for set amount of time.
5. Tournament
Competitive mode in which drivers race head to head over a set number of laps or for a set amount of time.
6. Drag Race
Competitive race mode in which drivers race on a long straight. The pit exit on the powerbase represents the finish line and the drag strip can be as long as you want.
7. Arcade
8. Pace Car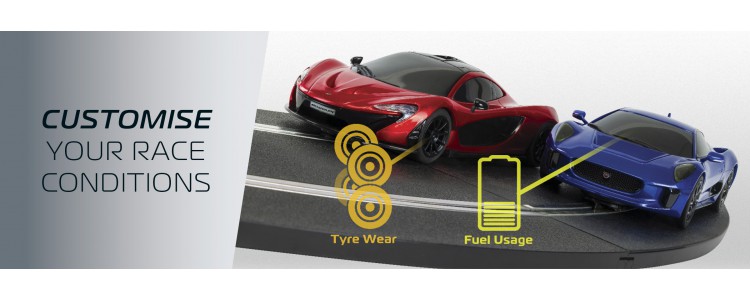 Lap Counting & Timing
See your current and remaining lap times
Tyre Wear
Add another dimension to your race by monitoring your tyre wear and choosing the right time to pit
Fuel Usage
When your car runs out of fuel pit stops will be required - miss the pits and risk disqualification
Jump Start Penalty
This allows you to define the number of seconds a jump starting driver will be penalised
Race End Type
This defines when the race will end. "Standard" ends the race once every driver has crossed the line after the winner. "All finish" will only end the race after each driver has completed the full race distance.
The ARC system is currently available in a choice of three versions...
Compatible devices
The selection of devices listed have been tested and are recommended for use with the ARC system.
Information for electromagnetic interference from cars: according to feedback, some cars that do not have an anti-parasite fixed to their engine (NSR, Revoslot) may not work well with this powerbase. If this happens, you can install a 10nF suppressor on the motor: