Beschreibung
History
When the Ford Works team withdrew from racing at the end of the 1973 racing season Allan Moffat set about building up a Falcon of his own, which would become the most publicised and possibly the most expensive in the history of the race. He utilised facilities and personnel of Ford people from both the United States and Europe in this attempt at winning his fourth Bathurst. The project was code‐named Falcon B52.
After extensive testing in the USA, at Bathurst, Australia, Allan Moffat arrived as the overwhelming popular favourite for the event. However, ten minutes before the first official practice session had even started Harry Firth, then Manager of the Holden Dealer Team, put in a 15‐point protest on the Number 33 Falcon.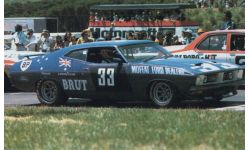 Moffat was incensed. In a terse press interview he stated: "If I have to pull the whole vehicle apart tonight to prove its eligibility, I will do so." The car came through the investigation but after a poor practice session, it was given an engine change but only qualified 15th on the grid. Moffat charged into fourth place on the opening lap but was forced to pit on the 12th lap, the first of many stops. A blown clutch eventually ended the run after suffering from distributor, bearing, gearbox and brake problems. The famous Bathurst track was demanding and it was the end of one of the most expensive and glamorous attempts at winning the race.
The Scalextric Model
Drivers : Moffat et Glemser
Race : Bathurst 1974
Digital Plug Ready (DPR) - convert for use with the Scalextric Digital range in under sixty seconds using the C8515 Digital Plug.