Beschreibung
Worldwide unique racetrack system combining tracks to race 1:24 and 1:32 scale digitally controlled cars. The wide tracks from Carrera stand for optimal racing in bends with sensational drifts and power slide action. Unlimited extension possibilities with track material scale 1:24 and further digital accessories.
Real digital racing for up to 6 drivers/players with Full speed overtaking at the push of a button. Cars mainly with front light (xenon) and rear/brake light. Pace Car and Autonomous Car can be operated.
Stainless U-profiles using Nirosta high-grade steel, no vibrations in driving due to rigid synthetic material. New bolt system, stable tracks for smooth and constant transitions and supports for high banked curves adjustable in height. Flexible track connecting sections for perfect track contact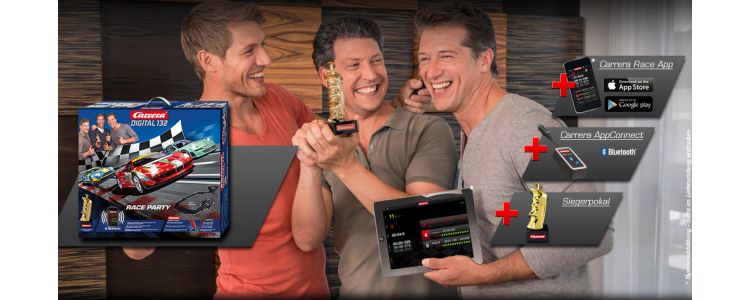 Carrera DIGITAL WIRELESS+ Set Trio
This wireless radio signal system uses 2.4-GHz technology and imports even more digital technology onto your Carrera circuit. A range of up to 15 m allows wireless operation of up to six vehicles simultaneously on one circuit.
Frequency hopping provides uninterrupted, frequencyindependent operation. The powerful Lithium-Polymer power pack provides power for eight hours of non-stop action – and a fully charged battery can remain charged 20 days on the standby setting.
Carrera DIGITAL 30369 AppConnect
Legendary racing pleasure and state-of-the-art technology go hand in hand at Carrera. With Carrera AppConnect, you will be able to link your smartphone or tablet directly to your DIGITAL 124 and DIGITAL 132 racing circuits from now on. Simply connect the Bluetooth adapter to the Control Unit of the Carrera race track, download the Carrera Race App free from the App Store (iOS) or Google Play (Android) and enjoy the racing fun of the future!
Complete set containing :
x6 Carrera Barrier Security

x6 Carrera Supports

x1 Carrera T

rophy

x1 Instruction manual